Homemade herbal remedies are easier than you think, and most only require a few minutes of hands-on time before you've crafted powerful herbal medicine for your families' medicine chest.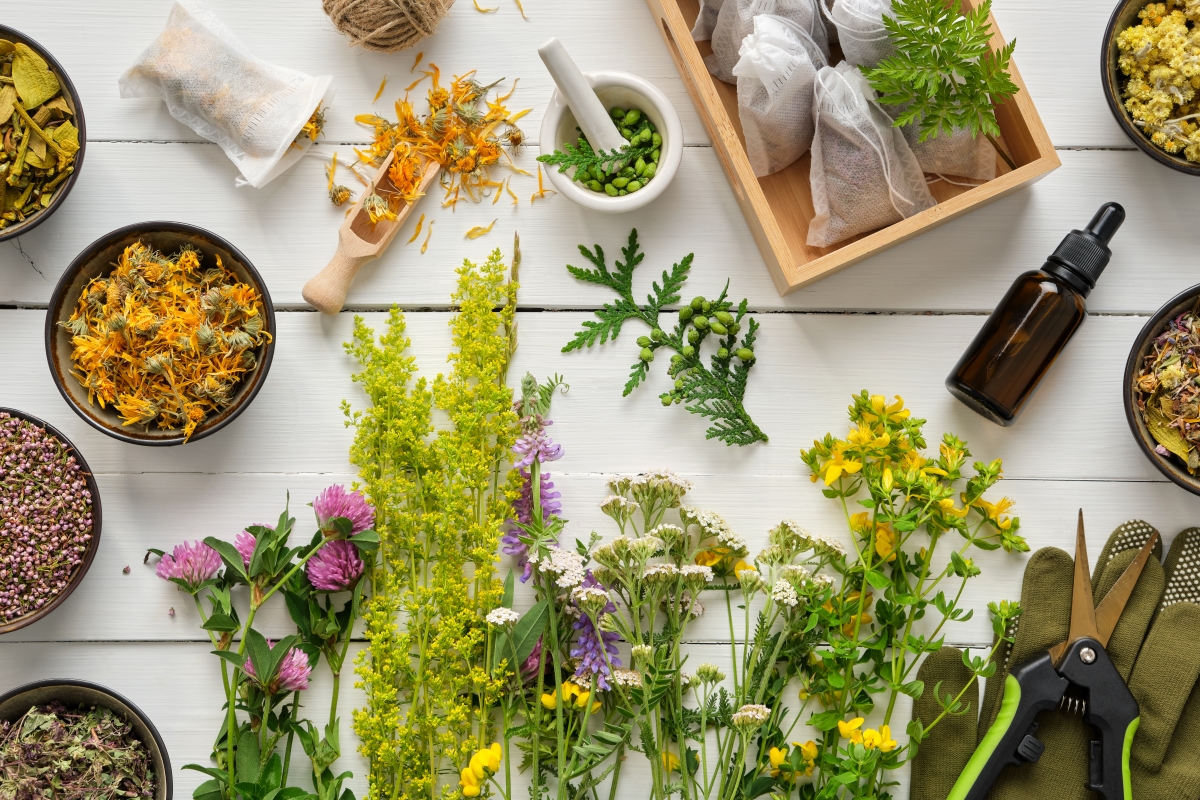 Diving into making herbal remedies might seem intimidating, so try starting with easy remedies that anyone can make at home.
I grew up with a family that primarily used modern medicine to treat problems, but as I grew our off-grid homestead, we began to use more herbal remedies to keep our family healthy.
It took years to learn how to treat illnesses with herbs that I grow or forage, but now, we rarely need to use conventional medication from the store.
These simple herbal remedies are easy for anyone to make at home, with homegrown or store-bought ingredients. Most are absolute beginner recipes, that only require you to be able to stir together ingredients and/or boil water.
Others require a bit more preparation, but believe it or not, even the "intermediate" remedies are simple if you can follow a recipe.
I've broken them down by type of herbal preparation, including:
Herbal Syrups
Herbal Teas & Infusions
Herbal Vinegar and Oxymels
(Always consult your doctor or a clinical herbalist before trying any new herbal remedy, as there's always the possibility of unintended consequences, allergic reaction, or interactions with other medication. If you're harvesting wild plant material, make sure you're 100% confident in your identification and consult multiple sources for your ID. The following is based on my research and experience, but I don't claim to have any certifications that would qualify me to advise you on your health. Please do your own research and always verify with multiple reputable sources.)
Herbal Syrups
A little sugar helps the medicine go down, and herbal syrups are a great way to get reluctant patients to take their medicine. They're also a great way to improve the taste of potent medicines.
Elderberry Syrup
One of the easiest herbal remedies for beginners is elderberry syrup. Most start off buying bottles of it in stores or online but eventually learn they're pretty easy to make at home too.
We always have a jar of homemade elderberry syrup with raw honey and herbs in our house to combat whatever bugs are kids bring home from playdates.
Evidence shows that taking elderberry syrup helps to reduce the duration of the flu while boosting your immune system, even if you aren't sick. Symptoms can disappear up to four days earlier by regularly consuming elderberry syrup when you're sick.
Don't pay a fortune for this simple yet effective herbal remedy. Learn how to make elderberry syrup at home in a few simple steps.
Honey and Thyme Herbal Cough Syrup
A persistent cough can be painful, and will keep you up at night. It causes throat irritation, and it's nice to find a home remedy that not only helps ease congestion and coughing, but also soothes the throat
Thyme is an incredibly effective decongestant, and it also happens to be anti-inflammatory and a potent anti-microbial.
Honey is also anti-microbial, and soothing too.
It'll help ease the painful symptoms, and often enough, a little relief is all you need to get you through.
Often home remedies for cough are just a simple honey lemon syrup, but I'd recommend making honey lemon syrup with thyme for better results. (It tastes great too!)
Sage Cough Syrup
Sage is incredibly effective for cough, and has a warming effect that will sooth sore throats too.
Most people think of sage as an herb that flavors chicken, but it is a natural remedy for various ailments that affect the mouth, throat, and lungs.
It's an effective cough suppressant as well as an anti-inflammatory herb that battles back any swelling. Then, some studies suggest that honey acts as a cough suppressant and a sore throat soother.
Take a look at this easy sage cough syrup that the whole family will love.
Herbal Tinctures and Extracts
A herbal tincture is just an alcohol extract that captures alcohol-soluble medicines in many plant materials and preserves them for later use. They're incredibly easy to make, and in most cases, you simply fill a jar with fresh or dried herbal material and cover it with a neutral spirit (like vodka).
For more specifics, I'd suggest reading this guide on how to make herbal tinctures at home.
Elderberry Tincture
A tincture is a concentrated herbal extract, and it's a great way to reap the benefits of a medicinal plant. It takes several months to make a tincture, since the herbs need time to infuse. That means you have to prepare these BEFORE you get sick.
You want to have these on hand, and they last for at least a year after preparation.
Elderberry tincture is known for reducing flu symptoms, but some recent studies show that elderberries have anti-inflammatory properties as well.
Echinacea Tincture
Echinacea is a powerhouse medicinal herb that is often one of the first that beginners learn how to use. One of the best ways to tap into these benefits is to use an echinacea tincture, but a small bottle costs upwards of $12.
I'm a bit too frugal to pay that cost when I can make it at home.
Evidence shows that echinacea reduces the chances of catching a cold, and if you do get sick, this herb reduces the length of a sickness by almost two days.
It also has a history of working on urinary tract infections, headaches, and as an all-purpose pain reliever.
Take a look at how to make echinacea tincture.
Homemade Witch Hazel Extract
Chances are you've heard of witch hazel; it's a common ingredient in different acne and hemorrhoid products.
Witch hazel is an excellent herbal remedy for anything that involves inflammation, such as sinus infections, head colds, bleeding gums, and, yes, hemorrhoids.
Let's be honest; no one likes talking about hemorrhoids, but they're a reality that most people face at least once in their lifetime. You don't have to use store-bought products to get rid of them when it's possible to make witch hazel soaked pads at home.
Here is how I make witch hazel extract at home; it contains more witch hazel than anything you'll buy at the store!
Dandelion Tincture
The little yellow flower that grows in your yard is also a well-known digestive herb, and taking dandelion tincture prevents gas and heartburn after eating. It's a gentle diuretic as well, so it helps with water retention and urinary tract infections.
Making a dandelion tincture is just as easy to make as other tinctures. You have to dig up the roots, and it's best to dig them up before they flower. You can use the leaves in salads. The roots need to be cleaned and chopped before soaking in alcohol to create a tincture.
Take a look at how I make dandelion tincture every spring.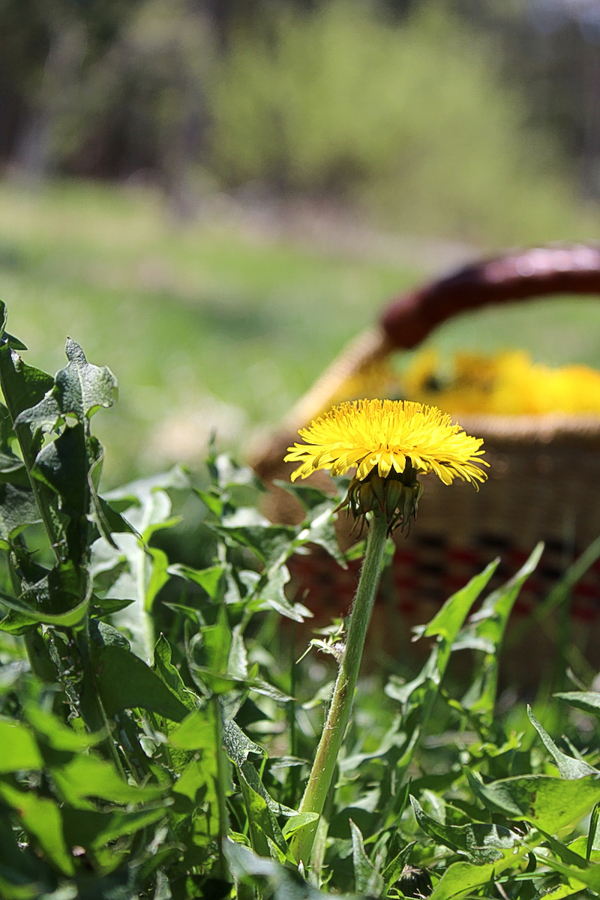 Valerian Tincture
Do you find that sometimes you can't fall asleep? Too many people suffer from sleep-related issues, and we know that sleep is vital for our health and well-being.
Valerian tincture is my go to herbal remedy for sleep issues, and it's also great for anxiety. Combine it with other relaxing herbs like chamomile, lavender, and skullcap, or just leave it as a plain Valerian tincture.
I find it incredibly effective, and it always helps me through bouts of insomnia.
Herbal Teas & Infusions
Teas and infusions are some of the simplest herbal remedies, and all you need to do is steep fresh or dried herbs in a bit of water.
Echinacea Tea
Another way that you can tap into the powers of echinacea is by making cups of echinacea tea. Echinacea tea is an herbal remedy used for centuries to fend off winter illnesses and boost immune systems.
Drinking a cup of echinacea tea a few times a week will stop winter colds and flu from taking over. Some people believe that taking echinacea stops them from getting sick altogether. Not only does it stimulate your immune system, but echinacea also decreases inflammation.
So, anytime you feel poorly, brew yourself a cup of echinacea tea; it's one of the easiest herbal remedies anyone can make.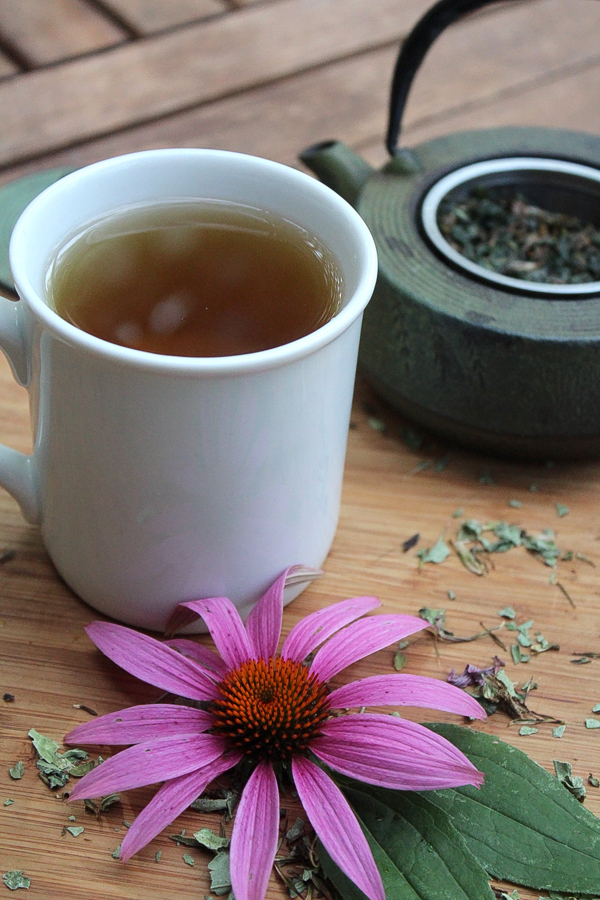 Stinging Nettle Infusion
Stinging nettles are know to be nutrient rich and full of essential minerals. My aunt started making a nourishing stinging nettle infustion for herself when she hit middle age, and says it really makes a difference in her overall wellbeing.
According to Nourished Kitchen, "Stinging nettle infusions are highly nutritive tonics that nourish your body with trace minerals and vitamin K as well as many antioxidants and other plant compounds. They also help support cardiovascular health, blood sugar regulation and general wellness. Herbalists often use them as an adrenal and reproductive tonic and to ease seasonal allergies."
Herbal Oils & Salves
Homemade infused oils are simply dried herbs infused in oil for a few days or weeks at a time.
The medicinal constituents come out in the oil, making them perfect for skin issues and other topical applications.
Dandelion Oil
Dandelions take over your yard in the spring and summer, and these yellow flowers are more than weeds – they're medicinal powerhouses. Most people have no idea that you can use dandelions to treat various ailments, but one of my favorite ways to use dandelions is to make dandelion oil.
Dandelion oil has many uses. I reach for it when I have dry and chapped skin. Dandelions help the skin to heal, healing minor wounds and burns.
Anyone can make dandelion oil. All you need is olive oil and dried dandelion blossoms that you soak in the oil for several weeks. Then, strain it and use it on your skin and for minor wounds.
Take a look at how to make dandelion oil and a few of my favorite ways to use this medicinal-infused oil.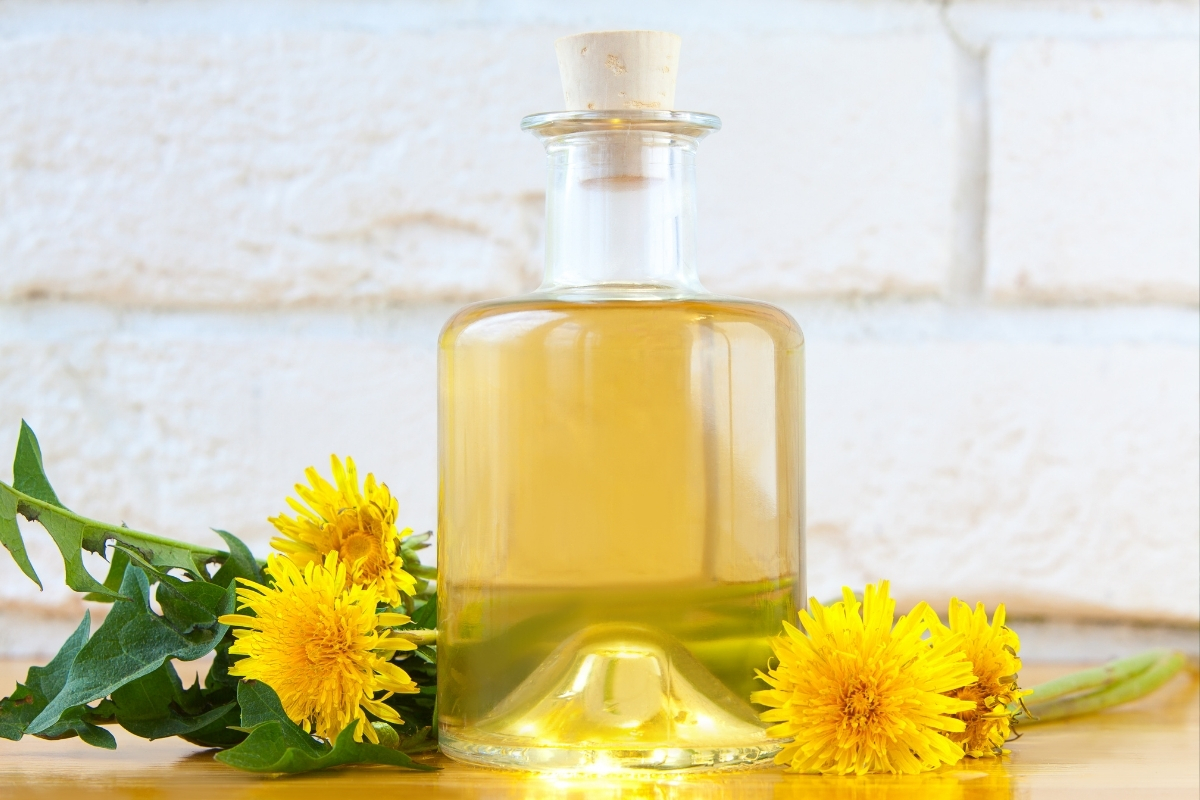 Plantain Salve
Herbalists refer to plantain as nature's band-aid, and it has some of the best properties for healing cuts, scrapes, stings, and abrasions. Plantain salve has all of these healing benefits, combined with the soothing and moisturizing properties of olive oil (or whatever oil you use) and beeswax.
Making plantain salve starts with making infused plantain oil. Then, you mix the infused oil with beeswax to make a hardened herbal remedy.
After you make the salve, store it in a tin can, so you can take it with you wherever you go. Use it when your kids fall and need ointment on their injuries. Use it for yourself when you cut your hand working outside.
You'll find different ways to use your plantain; check out my instructions for making plantain salve.
Drawing Salve for Splinters and Bug Bites
Do you have a splinter, bug bite, or boil that needs to go away ASAP? You need a drawing salve. These salves are made with charcoal and clay, and you apply it on the area. Cover it with a bandaid and repeat as needed.
The recipe for this salve starts with an infused olive oil; you can infuse it with calendula, plantain, dandelion, or other herbs that are good for the skin. Then, you mix the infused oil with activated charcoal, clay, and beeswax to create this drawing salve.
Drawing salves truly work, and every herbalist needs a jar in their herbal remedy cabinet. Take a look at how The Nerdy Farm Wife makes her drawing salve recipe.
Yarrow Salve
Yarrow has a long history as a medicinal herb, dating back at least 2,500 years ago when Chinese doctors used this plant to treat inflammation, bleeding, and animal bites.
Yarrow salve is perfect for carrying in your bag for small cuts, rashes, bee stings, and minor burns. Keep your balm in a tin for easy transportation. It even works well on diaper rashes.
Take a look at how I make yarrow salve.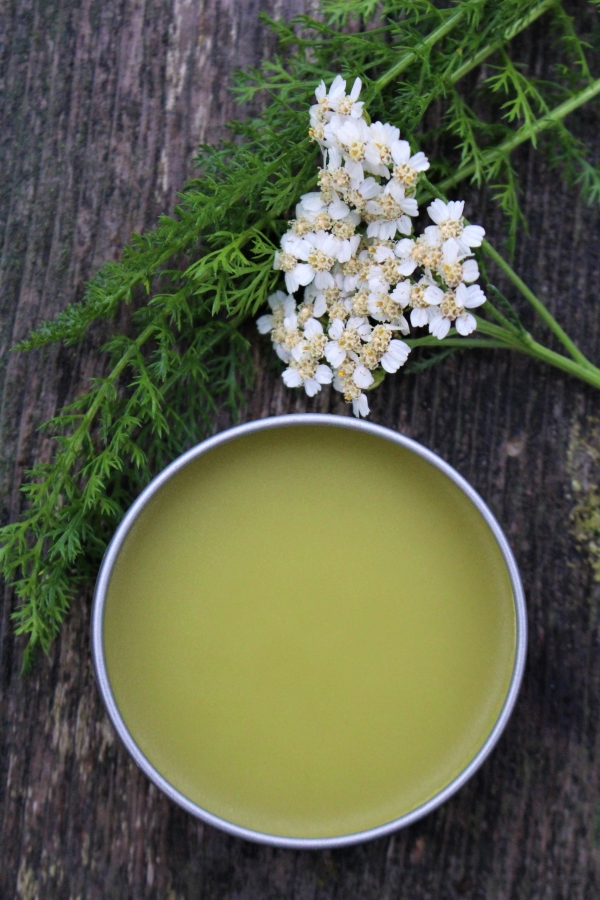 Calendula Salve for Cuts and Scrapes
Calendula is another popular herb that treats skin problems. If you have dry skin, burns, minor cuts, and scrapes, calendula salve is the perfect solution. I even used this as a substitute for diaper rash cream, and it works great on bug bites.
This recipe for calendula salve is easy to make, and it's versatile. You also add different essential oils depending on what you want for the salve. Try adding frankincense to support your skin while it heals cuts and bruises.
Herbal Vinegar and Oxymels
Herbal infused vinegars are not all that different than infused oils, they're just herbs in vinegar instead.
Oxymels are a mixture of herbs, vinegar and honey, which sweetens them and makes them a lot more palatable than straight herbal vinegars.
Fire Cider
Fire cider is one of the best-known herbal oxymels, or mixture of herbs, honey and vinegar.
Each person seems to have their version of fire cider, but the basic ingredients are all the same: onions, garlic, ginger, horseradish, and chile peppers infused in vinegar.
The name "fire" cider is that for a reason.
Later, the vinegar is strained, and honey is added to help temper the heat. Take a look at how to make fire cider at home and other ingredients you can add.
Elderberry Oxymel
Similar to elderberry syrup, elderberry oxymel is made using raw cider vinegar and raw honey.
You get all the benefits of elderberry syrup, but add in the pro-biotics in cider vinegar and allergy fighting and anti-microbial benefits of raw honey.
It's simple to make at home, just mix the ingredients, allow them to infuse a few weeks, then strain and enjoy.
Burdock Vinegar
My husband's favorite herbal vinegar is burdock vinegar. He'll splash it on his food for extra flavor, as well as just take shots of it as a general wellness tonic.
Burdock is a natural liver tonic and blood cleanser, and it's also a natural anti-inflammatory and diuretic.
Most people use burdock in the spring to clean out their system after all the heavy foods of winter, but feel free to take it anytime you need to clean up shop inside your body.
Herbal Remedy Inspiration
Looking for more inspiration to craft your own herbal remedies?
Disclaimer on Homemade Herbal Remedies
I've been foraging wild medicines and treating my family with herbal remedies for the past 20 years, but I'm self-taught. Be aware that I am not a clinical herbalist, and this is based on my own research and personal experience using medicinal plants. I do not claim to have the experience that'd qualify me to advise you on your health, and I'm only providing this as a reference to encourage a broader interest in medicinal plants.
Please use this as a jumping-off point, but always do your own research and verify anything you read with multiple sources.
It's always possible to have an adverse reaction to any medicinal herb, and plenty of people are allergic to even gentle herbs like chamomile. Always consult your doctor or a certified herbalist before trying any new medicinal plant. Often, they can have unintended reactions in combination with other herbs and supplements, and many herbs have side effects even when they are effective for their intended purpose.
If you are seriously interested in herbal medicine, I'd suggest investing in a course in herbal medicine, and I'd recommend any of the online courses put out by the Herbal Academy of New England. Specifically, the introduction to herbal medicine course and the family herbalist group of courses.
They also have a mushroom course, covering both medicinal and edible mushrooms, and a Botany and Wildcrafting Course. I've taken both and they're informative, inspiring, and artfully presented.