From its impressive immune-boosting benefits to its time-honored wound-healing properties, when it comes to what-ails-you there's no better remedy than freshly brewed calendula tea.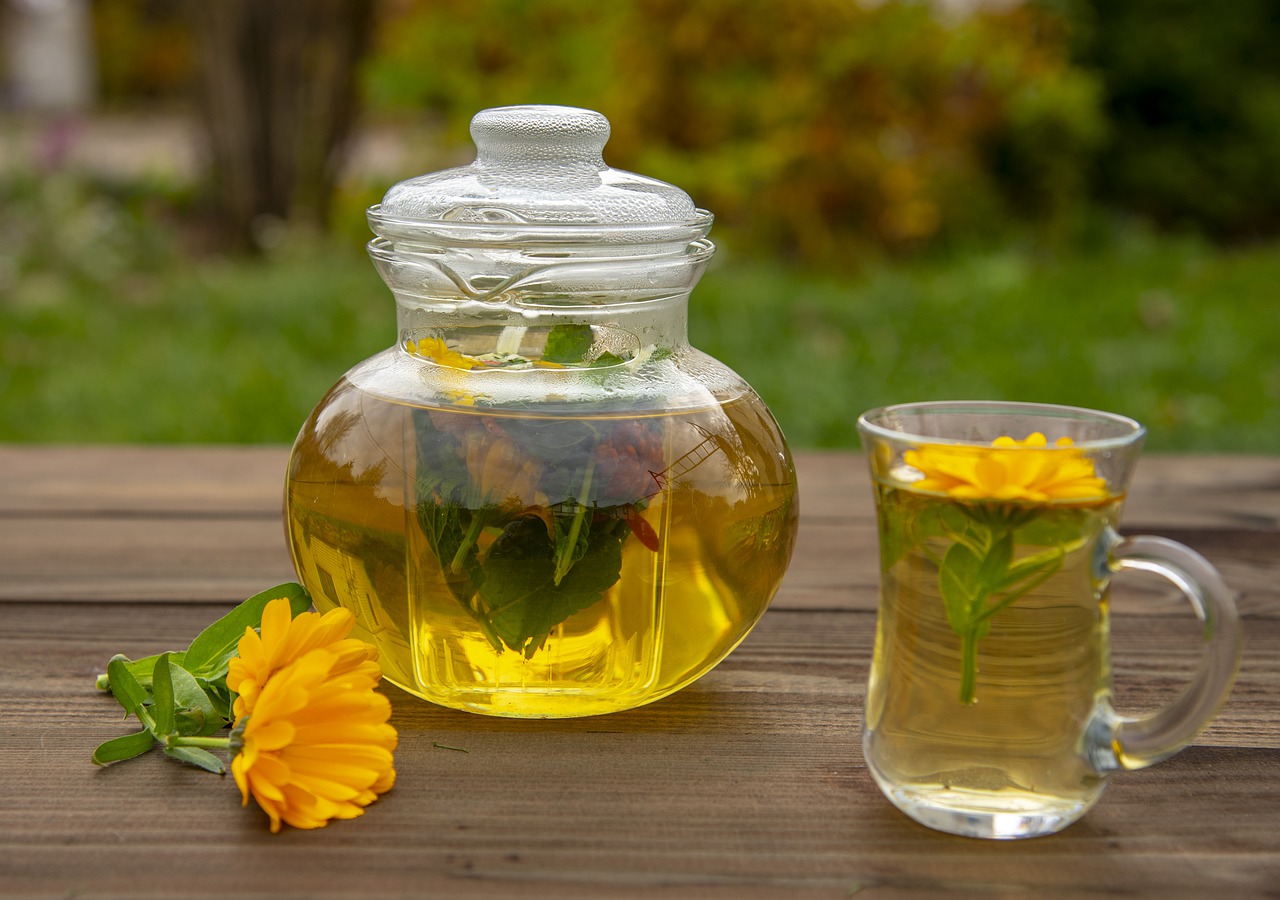 I've had calendula in my garden for over 10 years and I never get sick of the gorgeous, glowing blossoms that adorn the stems of these easy-to-grow herbs. Like little suns bobbing in the breeze, calendula flowers never fail to make me happy.
Growing my own medicinal herbs has been a truly empowering experience, there's something so liberating about having so many incredible remedies right in my own backyard. And the best part? Calendula is incredibly easy to grow, whether you have tons of space or are working within the parameters of a balcony garden.
Making my own calendula tea (or healing salve, lotion bar, or infused oil) guarantees a certain standard of potency — there are no fillers or added ingredients I'm not interested in, and in the case of this tea, the results couldn't be simpler to achieve.
Whether you know calendula for its amazing effects on the immune system or its ability to soothe tired muscles and skin ailments, I'm going to show you how truly easy it is to brew your own calendula tea with only two ingredients: fresh or dried calendula and water.
Benefits of Calendula Tea
Calendula tea has been recognized for its many healing properties for almost a thousand years, and with good reason: the list of ailments that benefit from calendula is a long one!
Calendula is perhaps best known for its wound-healing properties, and its effectiveness has been studied on all kinds of painful skin conditions, both inside and out, including ulcers, burns, eczema, diaper rash, and lesions.
When I'm using calendula tea to treat wounds and other skin issues, I apply the tea topically by using a spray bottle or by making a cloth compress to press directly over the inflamed area.
Calendula tea has anti-fungal and antimicrobial properties and is thought to inhibit the growth and relieve some of the itchiness associated with Candida yeast infections.
These same antimicrobial effects of calendula tea are the reason I usually keep some calendula tea on hand to use as a mouthwash. Not only does it work against the micro-organisms that eventually form plaque, it helps to keep gums healthy because of calendula's anti-inflammatory properties.
Calendula tea is packed with powerful antioxidants that are great for the skin and the immune system. Specifically, the antioxidants in calendula have been shown to reduce signs of aging (such as fine lines and age spots) as well as working to maintain a healthy immune system.
It's one of the few immune-boosting herbs out there, along with elderberry and echinacea (which also makes great echinacea tea).
Harvesting Calendula for Tea
To make calendula tea, you'll want to harvest the blossoms of the calendula plant as soon as they're fully open. Try to harvest the blossoms in the late morning, carefully wiping the petals free of any residual dew.
Calendula thrives when it's being pruned on a regular basis, and the best way to do this is with clean scissors or by pinching the stem. Feel free to include part of the stems if you don't have an abundance of available flowers, they won't look as pretty as the golden blossoms but will impart the same healing benefits.
Calendula tea can be made with fresh flowers and other plant material or from dried blossoms. To dry calendula, spread it out over a drying screen or newspaper and keep it away from direct sunlight. Flip the calendula over every day, until it's completely dried out.
If you have a dehydrator, that will also work, but keep calendula out of the oven or the heat (even low heat) could destroy many of the medicinal properties of the plant.
If you're curious about calendula tea but aren't able to grow it yourself, Mountain Rose Herbs has excellent-quality dried calendula blossoms for making tea.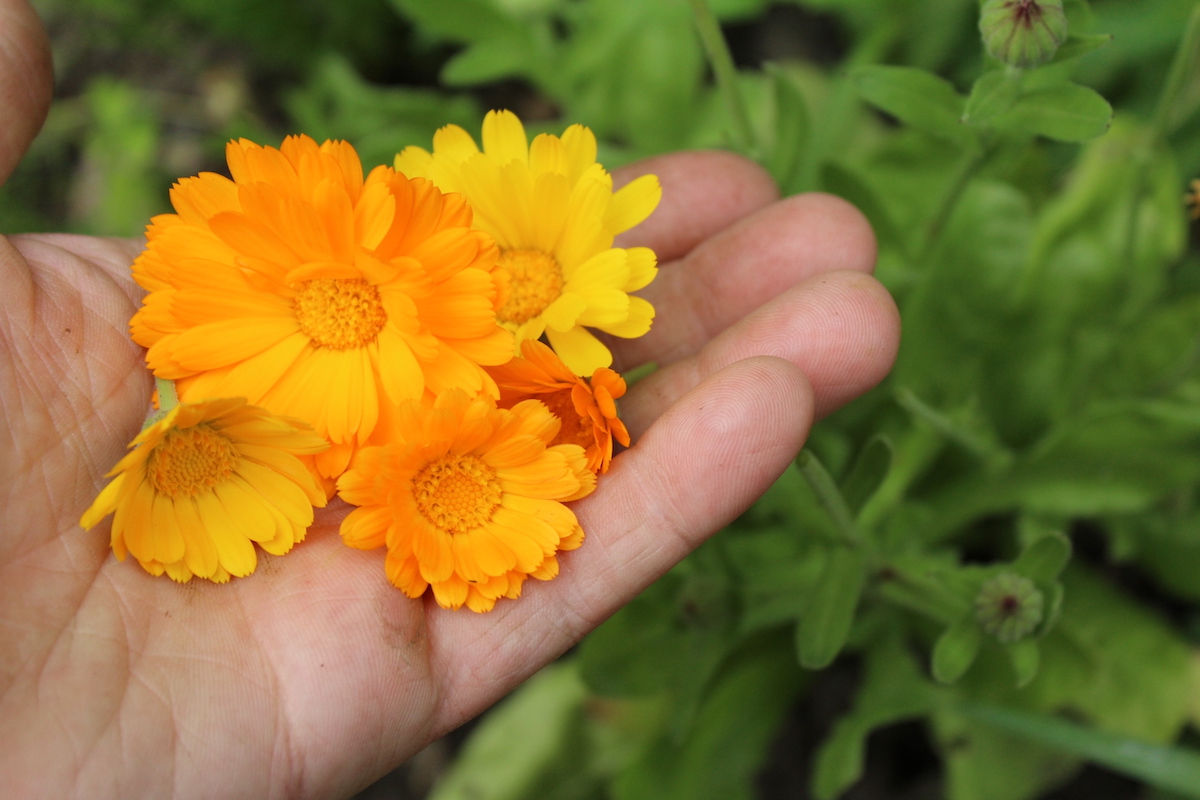 How to Make Calendula Tea
Making calendula tea couldn't be simpler, the only ingredients are fresh or dried calendula and water.
If you want to brew the tea using fresh calendula, fill a teacup or coffee cup with blossoms and cover with boiling water.
Or, if using dried calendula for the tea, use about 2 tablespoons of dried plant matter per cup.
Let the tea steep for 10 to 15 minutes before straining the tea through a fine-mesh sieve.
Serve the tea immediately or cool and use for external applications.
As with all teas, you can also make calendula tea as a sun tea during the summer — serve cold or over ice for a refreshing afternoon pick-me-up.
Herbs to Use with Calendula
Depending on how you plan on using your calendula tea, it can be combined with other complementary herbs to enhance the healing effects of the tea.
Because calendula works to boost the immune system internally, adding in turkey tail or other immune boosting herbs is always a good idea. Likewise, tulsi or Holy Basil add immune-boosting benefits while having a calming effect on the nervous system.
You can also add in nice tasting herbs, like chamomile and lavender. Lavender has the added benefit of being a topical antibacterial, so it'd be good for external use too. We grow lemon balm, and it's ready in the garden during the same season, and I'm always looking for more ways to use lemon balm.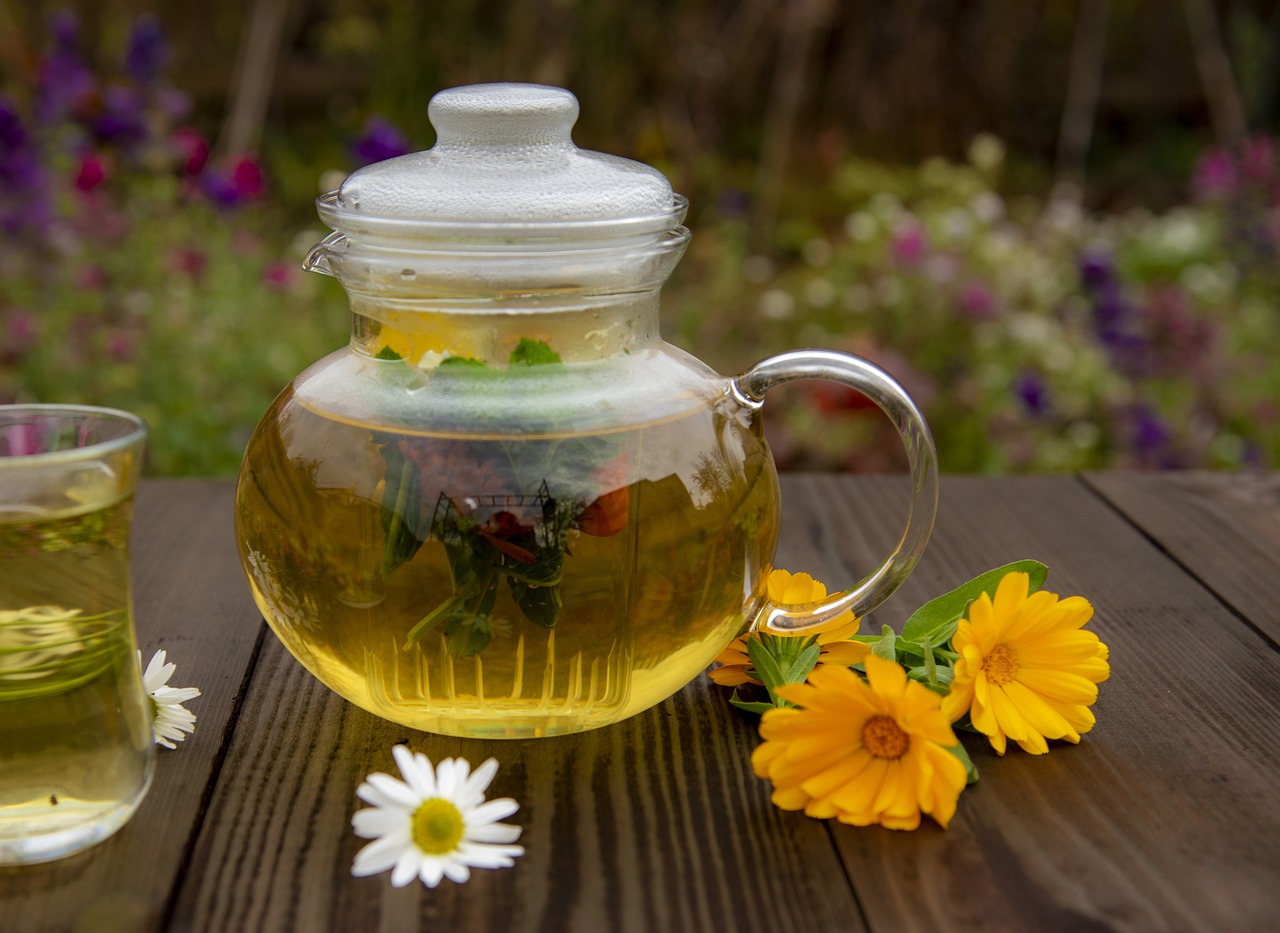 How long does calendula tea keep?
Calendula tea will keep in the fridge for up to a week, as long as all plant material has been strained out. It can be enjoyed as an iced tea, transferred to a spray bottle, or used to soak a cold compress.
Ways to Use Calendula Tea
Looking for creative ways to use calendula tea? Here are some of my favorites:
Freeze calendula tea, either in the form of a frozen cold compress or ice cubes, to rub on sunburns, rashes, and other skin ailments.
Add a teaspoon of salt of hot calendula tea and let cool — use to gargle after brushing your teeth (the salt adds even more antimicrobial power!)
Use cool or room temperature calendula tea as a toner for oily or acne-prone skin.
Apply to areas of skin affected by the overgrowth of Candida yeast.
Give yourself a spa-like experience by soaking your feet or hands in warm calendula tea.
Rinse hair with calendula tea to clarify and soothe itchy scalp.
Decant some calendula tea into a small spray bottle and bring it with you next time you find yourself hiking or camping — it works wonders on bug bites and rashes.
Add fresh or dried calendula directly to the bath to relieve itchy skin.
Apply calendula tea with a cotton pad or cloth to soothe diaper rash.
Sip throughout the day during cold and flu season for its immune-boosting properties.
Gargle with calendula tea at the onset of a sore throat.
Apply calendula tea directly to wounds to encourage healthy scar healing.
Apply cold calendula tea to cracked nipples during breastfeeding.
Brew calendula tea with raspberry leaf to calm menstrual cramps (these herbs are known to induce menstruation, so avoid if pregnant).
Rinse your mouth with calendula tea to alleviate thrush, canker sores, blisters, and oral chickenpox.
Ways to Use Calendula
Looking for more ways to use calendula?
Herbal Remedies
Looking for more herbal remedies right from the herb garden?